I was very confused with an recent HDS announcement, and it has been at the back of my mind for several weeks now.
On the last week of September 2012, HDS announced their Hitachi Unified Storage VM, aimed at small/medium enterprises (SMEs). Nothing wrong with that, except the VM part. I am not sure if it was the Computerworld author's mistake, but he specifically mentioned VM as "virtual machine". Check out the link here and the screenshot below:
It got me a bit riled up thinking this was some kind of virtual storage ala VMware Virtual Storage Appliance or NetApp ONTAP-V or even the early innovation of HP Lefthand Virtual SAN Appliance. Apparently not!
I did some short investigation and found Nigel Poulton's blog which gave a fantastic dissection about the HUS VM. The VM is not virtual machine, but Virtual Midrange!
The HUS VM architecture is deep in ASICs, given HDS long history in ASICs design and manufacturing. SiliconFS, is the NAS front end, while the iSCSI and FC part are being serviced from the same HDS microcode of the higher end HDS VSP. Here's a look at the hardware architectural diagram from Nigel's blog:
There are plenty of bells and whistles in the HUS VM, armed with plenty of 8Gbps FC ports, SAS 6Gbps backend, SSDs, and software such as Dynamic Provisioning (thin provisioning) and Dynamic Tiering.
But after I read about the "entry-level" price of USD156,000.00, I thought HDS must be out of their mind offering an SME level box at a staggering MYR480,000.00 smackeroos! And it does not come with capacity, meaning you  still got to buy your own hard disk drives! Wow, amazing!
Hubert Yoshida, CTO of HDS, tries to give his point of view why the HUS VM matters in his blog. HDS has positioned HUS VM in between their high-end HDS VSP and the "lower-end" of HUS 150, as show from the slide below: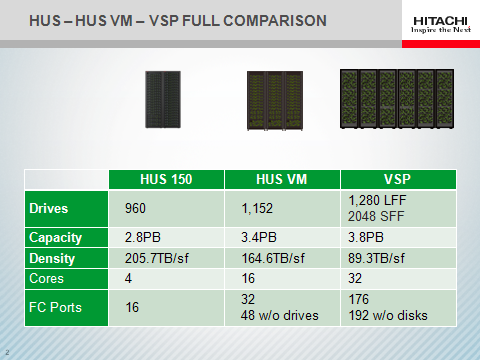 But the positioning of the HUS VM brings back memory when HDS has a "neither-here-nor-there" in-between storage called NSC55. It was indeed a very powerful platform, and one of the earlier controller-based storage virtualization engine. But for me, the NSC55 was way-too-powerful for the SMEs in Malaysia, because the list price back then was just as budget-breaking as the present one.
Perhaps things and technology have changed, but I agree with what Nigel Poulton has to say about HDS foray into this so-called "mid-end" storage systems. Read below:
Ouch!
That something I do not quite understand about HDS strategy here. History has shown that bring something high-end, make a few smaller adjustments and repackaging it as a "mid-end", and this is very disturbing to me. Case in point was taking the HDS USP600 and making it NSC55. Someone has to tell HDS what the definition of mid-end is, please.
SMEs in Malaysia (and perhaps in the South Asia region) want a low cost of entry, but they want large capacities and good enterprise features as well. It would be nice for the vendors and their resellers to add value by listening to them and their pain points. They have cost challenges at the time because of pressure from the top as well as the bottom. They want something that works, reliable (which includes performing well), meet their baseline requirements and that's pretty much it. From the vendor's point of view, dealing with SMEs feels like they want everything to be CHEAP, BEAUTIFUL and GOOD (there's a Cantonese term to this) but given the nature of any SME businesses, competition is very stiff and they hardly have the time or resources to indulge into all the fancy bells and whistles of the storage technology.
]I would probably summarize their hurried into one sentence: "Just give me something that works, how it works for me, and support me when I need you!"
Somehow I have a feeling that SMEs in Malaysia will have a hard time chewing this"mid-end" solution of HUS VM. The HDS AMS (or even SMS storage systems) and the newer HUS systems, in my humble opinion, are more appealing and gentler to the pockets of SMEs. Wouldn't it be easier to just enhance the HDS AMS and HUS to meet the market needs of the SMEs?
From feedbacks and my conversations with many SMEs here, one of the reasons for HDS AMS, NetApp FAS2000 or the EMC VNX/VNXe are doing well here are their appeal. You don't see EMC ever wanting to have a "mini-VMax" or IBM doing a scaled-down DS8870 to sell to the SMEs customer, do you?
HUS VM will be a good storage systems, but not to the definition of SME customers who will immediately get a shock of the "entry-level price". And believe me, SME customers do their homework and their research. Good luck!